Richie Caveney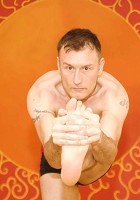 I have been practicing Bikram Yoga now for eight years, I am now in my fourth year of teaching full time. Thanks to these amazing twenty six postures, I have experienced great change in my physical, mental and emotional well being. Due to Scoliosis in my spin I used to suffer chronic indigestion, hip and back pain. Thanks to Bikram Yoga I now have great digestion and have been pain free years .I feel blessed to have this practice in my life on a daily basis. Inspiration!!!! look for it everywhere. favourite quote. Pain is inevitable, suffering is chosen I have been blessed to work with and for some of the most dedicated people in this industry both here and overseas, for this I am truly grateful.
Richie Caveney instructs the following:
This is the same Bikram method class, but only takes 1 hour. Time is of the essence, so this is your chance to do your Bikram as a flow with very little stopping. This is a faster paced class and only suitable for those who are familiar with the sequence. This is not advisable for new students.




BIKRAM YOGA IS PRACTICED IN A HOT ROOM in temperatures of around 42-45 degrees centigrade. So straight away your body is warm and ready for action. As you work through the 26 postures or (asanas) and two breathing exercises, your body's internal and external temperatures start to even out. Your body is now becoming more fluid and open. This allows your muscles to stretch more readily and your joints to move more easily. So no matter what condition your body is in, you can gain a lot of benefit from just one class.

As you get hot you will sweat, a great way to start removing toxins such as nicotine, caffeine and even excess alcohol—not to mention dangerous metabolic waste that can build up, causing all sorts of physical and mental issues.