Hot 75 plus
This class is taught by: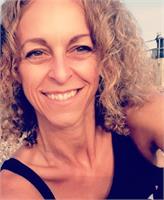 I went to my first Bikram yoga class in April 2006. I loved it from my very first class - the heat, the energy, the 26 postures as well as the time to de-stress, re-energise and switch off.
I completed my Bikram teacher training, a 9 intensive week course, in September 2011.
I then decided to expand my knowledge and learn how to teach other styles of yoga.
In November 2014 I completed aerial yoga training.
In June 2016 I attended Ghosh Vinyasa Flow training - a Bikram vinyasa fusion.
In May 2017 I completed my 200 hours training, specialising in vinyasa flow.
In September 2017 I completed my Yin yoga training.
Yoga is amazing both physically and mentally. In particular, no matter what type of class you have, no matter what sort of day you have had, you always feel good afterwards.
I am truly grateful and honoured to be able to teach all these different styles of yoga and help others get the benefits from their practice, build strength and flexibility and change their lives for the better.
A mix of Bikram and vinyasa focusing on the breath. Working by applying synchronised breath and movement to the familiar Bikram beginners' postures, plus additional postures. Adding postures to strengthen abdominal and upper body muscles.
Upcoming classes: