Yin Yoga
This class is taught by: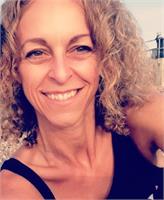 I went to my first Bikram yoga class in April 2006. I loved it from my very first class - the heat, the energy, the 26 postures as well as the time to de-stress, re-energise and switch off.
I completed my Bikram teacher training, a 9 intensive week course, in September 2011.
I then decided to expand my knowledge and learn how to teach other styles of yoga.
In November 2014 I completed aerial yoga training.
In June 2016 I attended Ghosh Vinyasa Flow training - a Bikram vinyasa fusion.
In May 2017 I completed my 200 hours training, specialising in vinyasa flow.
In September 2017 I completed my Yin yoga training.
Yoga is amazing both physically and mentally. In particular, no matter what type of class you have, no matter what sort of day you have had, you always feel good afterwards.
I am truly grateful and honoured to be able to teach all these different styles of yoga and help others get the benefits from their practice, build strength and flexibility and change their lives for the better.
Yin yoga is a slow, deep practice of yoga that really allows our body to slow down, rejuvenate and release physically, mentally and emotionally - improving inner silence, awareness and reducing stress and anxiety.
The postures are passive, mainly on the floor, yet Yin is still challenging! Postures are held for a long period, often 3-5 minutes or more, applying moderate stress to the connective tissues working deep into the bones, tendons, fascia and ligaments.
The focus is mainly on hips (where we hold a lot of emotional tension), pelvis, inner thighs and lower spine as well as shoulders. We use props to ensure support and comfort allowing us to relax into the postures, increase circulation to our joints and improve the flow of qi (subtle energy) through our body.
The room is not heated.
Please bring 2 towels or a towel and a blanket to use for padding/support!
Upcoming classes:
Sign Up

Tue

22 Jan 12:00 pm - 1:15 pm

with

Sam

Goddard




Sign Up

Fri

25 Jan 5:30 pm - 6:45 pm

with

Sam

Goddard




Sign Up

Tue

29 Jan 12:00 pm - 1:15 pm

with

Sam

Goddard




Sign Up

Fri

01 Feb 5:30 pm - 6:45 pm

with

Cindi

Halloren




Sign Up

Tue

05 Feb 12:00 pm - 1:15 pm

with

Sam

Goddard




Sign Up

Fri

08 Feb 5:30 pm - 6:45 pm

with

Cindi

Halloren




Sign Up

Tue

12 Feb 12:00 pm - 1:15 pm

with

Sam

Goddard




Sign Up

Fri

15 Feb 5:30 pm - 6:45 pm

with

Cindi

Halloren




Sign Up

Tue

19 Feb 12:00 pm - 1:15 pm

with

Sam

Goddard




Fri

22 Feb 5:30 pm - 6:45 pm

with

Cindi

Halloren




Tue

26 Feb 12:00 pm - 1:15 pm

with

Sam

Goddard




Fri

01 Mar 5:30 pm - 6:45 pm

with

Cindi

Halloren




Tue

05 Mar 12:00 pm - 1:15 pm

with

Sam

Goddard




Fri

08 Mar 5:30 pm - 6:45 pm

with

Cindi

Halloren




Tue

12 Mar 12:00 pm - 1:15 pm

with

Sam

Goddard




Fri

15 Mar 5:30 pm - 6:45 pm

with

Cindi

Halloren




Tue

19 Mar 12:00 pm - 1:15 pm

with

Sam

Goddard




Fri

22 Mar 5:30 pm - 6:45 pm

with

Cindi

Halloren




Tue

26 Mar 12:00 pm - 1:15 pm

with

Sam

Goddard




Fri

29 Mar 5:30 pm - 6:45 pm

with

Cindi

Halloren