Hot fusion flow 90
This class is taught by: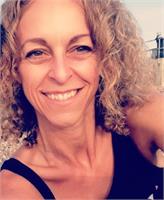 My first Bikram yoga class was in April 2006. I loved it. My very first class was tough- the challenge, the heat, the discipline, the energy and the 26 postures. I knew I had found something very special. I also knew that one day I would to teach Bikram Yoga. That day is now here. Bikram Yoga is amazing both physically and mentally – the lower back pain that I had suffered for several years has disappeared, my stress levels have eased and I generally feel so much healthier. The most amazing benefit I find from Bikram Yoga, is that no matter what type of class you have, or how you were feeling to begin with, you always feel good after you have worked hard for 90 minutes, through 26 postures and two breathing exercises. I briefly tried other styles of hatha yoga when there was no Bikram studio in Brighton and although I enjoyed it, I realised how many more benefits there are from Bikram Yoga. As soon as CJ's studio opened, I was straight through the door for the very first class! When the time was right for me, I made the life changing decision to go to Bikram Yoga Teacher Training. I left my career and job as the Area Manager for Sussex within a public sector department to fulfil my dreams of becoming a Bikram Yoga Teacher. This was a huge decision, but definitely the best decision I have ever made. I am honoured to be able to teach Bikram Yoga to you all especially as I know how it will help others get the benefits from this amazing yoga practice. Improving you back pain, joint issues and a whole plethora of body issues.
A fusion of Bikram and vinyasa focussing on the breath. Working by applying synchronised breath and movement to the familiar 26 Bikram beginners' postures, plus additional postures. Adding sun and warrior salutations, planks, and postures to strengthen abdominal and upper body muscles. Soft music in the background.
Upcoming classes:
Sign Up

Wed

01 Nov 10:00 am - 11:30 am

with

Sam

Goddard




Sign Up

Wed

08 Nov 10:00 am - 11:30 am

with

Sam

Goddard




Sign Up

Wed

15 Nov 10:00 am - 11:30 am

with

Sam

Goddard




Wed

22 Nov 10:00 am - 11:30 am

with

Sam

Goddard




Wed

29 Nov 10:00 am - 11:30 am

with

Sam

Goddard




Wed

06 Dec 10:00 am - 11:30 am

with

Sam

Goddard