Warm vinyasa flow 75
This class is taught by: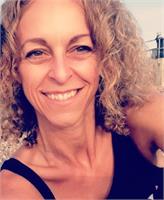 I went to my first Bikram yoga class in April 2006. I loved it from my very first class - the heat, the energy, the 26 postures as well as the time to de-stress, re-energise and switch off.
I completed my Bikram teacher training, a 9 intensive week course, in September 2011.
I then decided to expand my knowledge and learn how to teach other styles of yoga.
In November 2014 I completed aerial yoga training.
In June 2016 I attended Ghosh Vinyasa Flow training - a Bikram vinyasa fusion.
In May 2017 I completed my 200 hours training, specialising in vinyasa flow.
In September 2017 I completed my Yin yoga training.
Yoga is amazing both physically and mentally. In particular, no matter what type of class you have, no matter what sort of day you have had, you always feel good afterwards.
I am truly grateful and honoured to be able to teach all these different styles of yoga and help others get the benefits from their practice, build strength and flexibility and change their lives for the better.
Flow yoga, in which movement is synchronised to the breath, is used to allow you more movement. Postures are similar in these yoga classes. In a flow yoga class, because of the smooth way that the poses run together and become like a dance. The breath acts as an anchor to the movement as you flow from one pose to the next in time with an inhale or an exhale. Warm Flow can be very beneficial to your upper body strength.
Upcoming classes:
Sign Up

Tue

22 Jan 6:00 pm - 7:15 pm

with

Maxine

Payne




Sign Up

Tue

29 Jan 6:00 pm - 7:15 pm

with

Maxine

Payne




Sign Up

Tue

05 Feb 6:00 pm - 7:15 pm

with

Maxine

Payne




Sign Up

Wed

06 Feb 7:15 pm - 8:30 pm

with

Sam

Goddard




Sign Up

Tue

12 Feb 6:00 pm - 7:15 pm

with

Maxine

Payne




Sign Up

Wed

13 Feb 7:15 pm - 8:30 pm

with

Sam

Goddard




Sign Up

Tue

19 Feb 6:00 pm - 7:15 pm

with

Maxine

Payne




Sign Up

Wed

20 Feb 7:15 pm - 8:30 pm

with

Sam

Goddard




Tue

26 Feb 6:00 pm - 7:15 pm

with

Maxine

Payne




Wed

27 Feb 7:15 pm - 8:30 pm

with

Sam

Goddard




Tue

05 Mar 6:00 pm - 7:15 pm

with

Maxine

Payne




Wed

06 Mar 7:15 pm - 8:30 pm

with

Sam

Goddard




Tue

12 Mar 6:00 pm - 7:15 pm

with

Maxine

Payne




Wed

13 Mar 7:15 pm - 8:30 pm

with

Sam

Goddard




Tue

19 Mar 6:00 pm - 7:15 pm

with

Maxine

Payne




Wed

20 Mar 7:15 pm - 8:30 pm

with

Sam

Goddard




Tue

26 Mar 6:00 pm - 7:15 pm

with

Maxine

Payne




Wed

27 Mar 7:15 pm - 8:30 pm

with

Sam

Goddard




Tue

02 Apr 6:00 pm - 7:15 pm

with

Maxine

Payne




Wed

03 Apr 7:15 pm - 8:30 pm

with

Sam

Goddard